Plastic is everywhere. It's on our beaches, in our rivers, and in our oceans, choking sea life. According to the World Wide Fund for Nature (WWF), plastic pollution is responsible for the death of 100,000 marine mammals around the world each year.
As the plastics crisis becomes more and more severe, Thailand, like many other countries, has adopted new strategies in the hopes of reducing plastic consumption at the national level. From 2018 to 2019, the country had seen positive results—until things took a turn in the wake of the COVID-19 pandemic. The amount of plastic debris in Bangkok soared by an alarmingly 60% after the first lockdown in 2020 (🇹🇭).
Here, we will look at alternatives in traditional Thai wisdom as well as homegrown solutions that rely on modern techniques.
What is sustainable packaging?
Sustainable packaging is manufactured using biodegradable materials that eliminate harmful impacts on the environment throughout their lifecycle. Thanks to advancements in new technologies, today, we can see green meal boxes produced from a variety of eco-friendly materials ranging from recycled paper to clamshells.
Looking at most takeaway food—a major factor in Thailand's renewed addiction to single-use plastics—one order can contain five to 10 pieces of single-use plastics, which take up as much as 89% of all plastic waste in the ocean.
Besides addressing environmental concerns, sustainable options also go a long way to building consumer trust. A Unilever study shows that a third of customers choose brands based on whether they believe the brand is doing social or environmental good, while an MDPI study indicates that excessive or unsustainable packaging damages a consumer's "green brand attachment."
As plastic packaging is responsible for a high proportion of waste, sustainable alternatives will become essential to any business's waste management scheme, especially those related to e-commerce.
Sustainable packaging in Thailand
Before the advent of plastics, Thai people relied on a number of versatile natural materials, creatively integrating them into everyday use. Today, we can still see examples of this traditional wisdom.
Banana leaf

Banana tree is one of the most common plants in Thailand, grown in every region of the country. Aside from the fruit itself, its blossoms are an ingredient in local dishes, the tree trunk is used to make krathong (a traditional float used as a symbol of gratitude during the Loy Krathong Festival), and its leaves are perfect for packaging.
Many traditional Thai desserts (kanom thai) are wrapped in banana leaves, such as khao tom mud, khao neow sang kaya, kanom sai sai, kalamae candy—the list goes on. In addition to the rich green colour that makes the desserts look so appealing, the leaf itself also adds an aromatic touch. It is hygienic and, most importantly, biodegradable.
Pandan leaf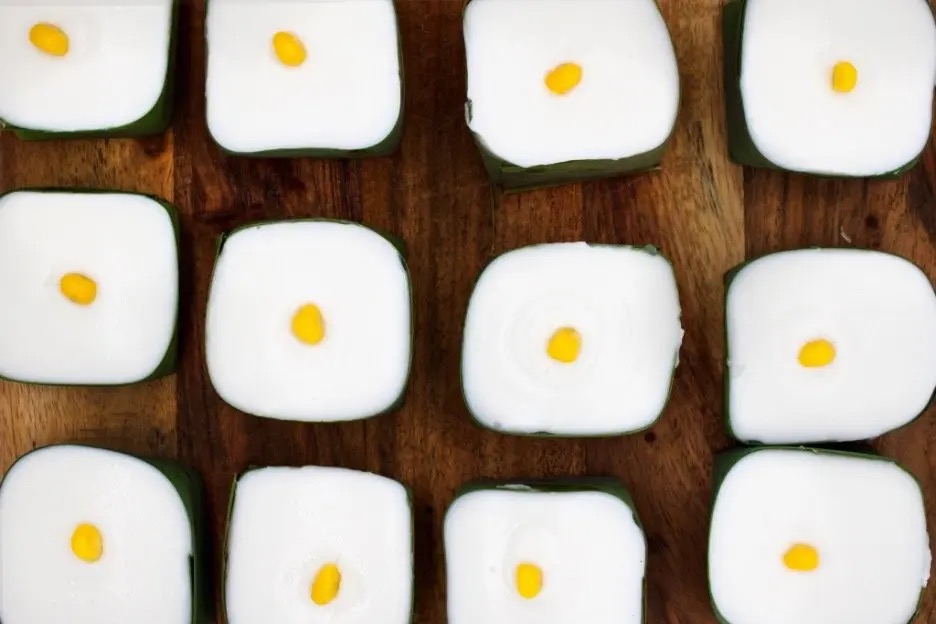 Similarly, pandan leaf has a unique fragrance that goes well with Thai desserts. The elongated leaves are woven together to create tiny bowls for kanom tako.
In some provinces, such as Yala, where the land is rich with thorn pandan, local communities weave its prickly leaves into an array of different containers (🇹🇭), from baskets and milled rice sacks to tissue boxes and document envelopes, which speaks to the versatility of pandan leaf for sustainable packaging.
Not only does this form of traditional craftsmanship contribute to environmental conservation, but it also enables rural communities to generate additional income.
Bamboo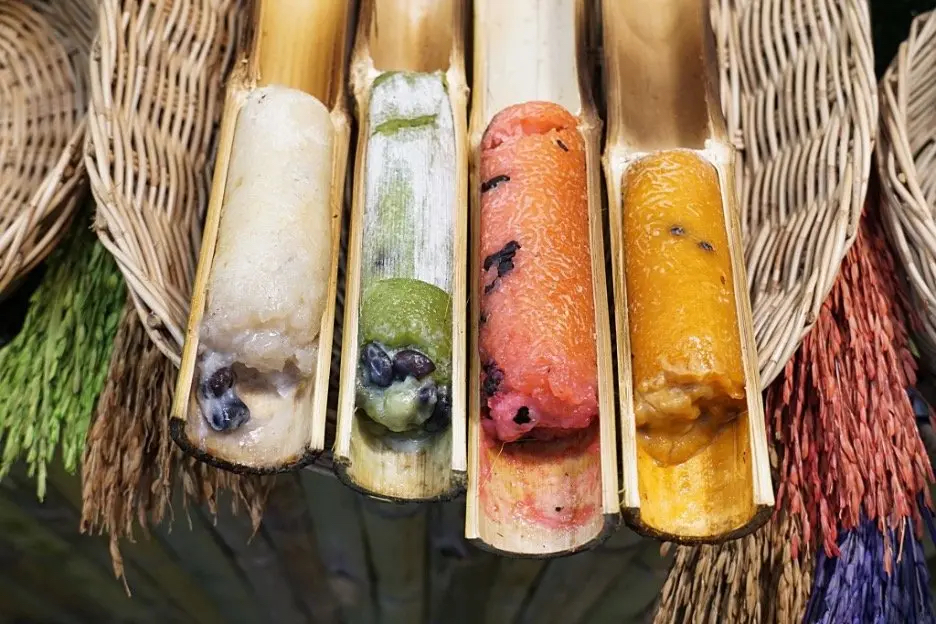 One of the many ways Thai people like to savour sticky rice is to roast it inside a bamboo barrel. Khao lam, or sticky rice roasted in bamboo, is a popular Thai dessert that serves as a brilliant showcase of bamboo as food packaging. The ancient practice (🇹🇭) is believed to have originated from people living in mountainous areas in preparation for their long treks.
Several drink stalls in local markets serve beverages in bamboo cups, creating a more rustic aesthetic. The extra benefit is the reduction of single-use plastic cups. The latest innovation, bamboo straws, also serves as an excellent alternative to plastic straws.
Coconut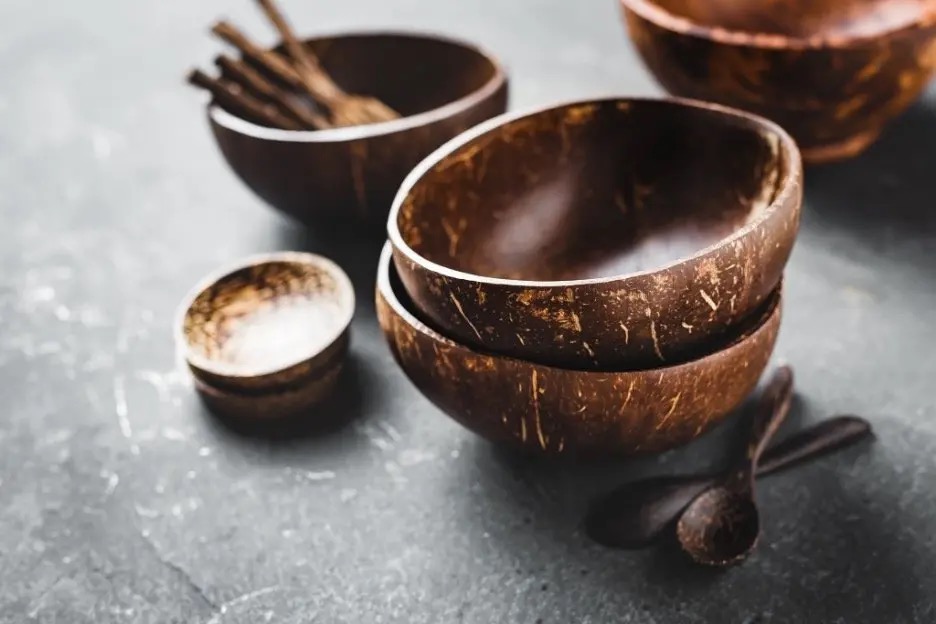 In 2018, plastic food packaging was reported as the most common beach trash. Why not make food packaging out of something that's supposed to be on the beach? Besides, the image of açai in a coconut bowl on the beach is much more "Instagrammable" than one in a plastic container.
In Phatthalung province, a handicrafts community uses coconuts to manufacture kitchen and tableware, including cups, ladles, and dippers for export to Japan, China, and Singapore, among other countries.
Traditional wisdom meets innovation
When you combine Thai traditional wisdom with modern technologies, you get innovative, eco-friendly substitutes for plastics. There are many environmental activists and pioneers in Thailand who are developing alternatives to wean the country off its addiction to plastics.
Maemoh leaf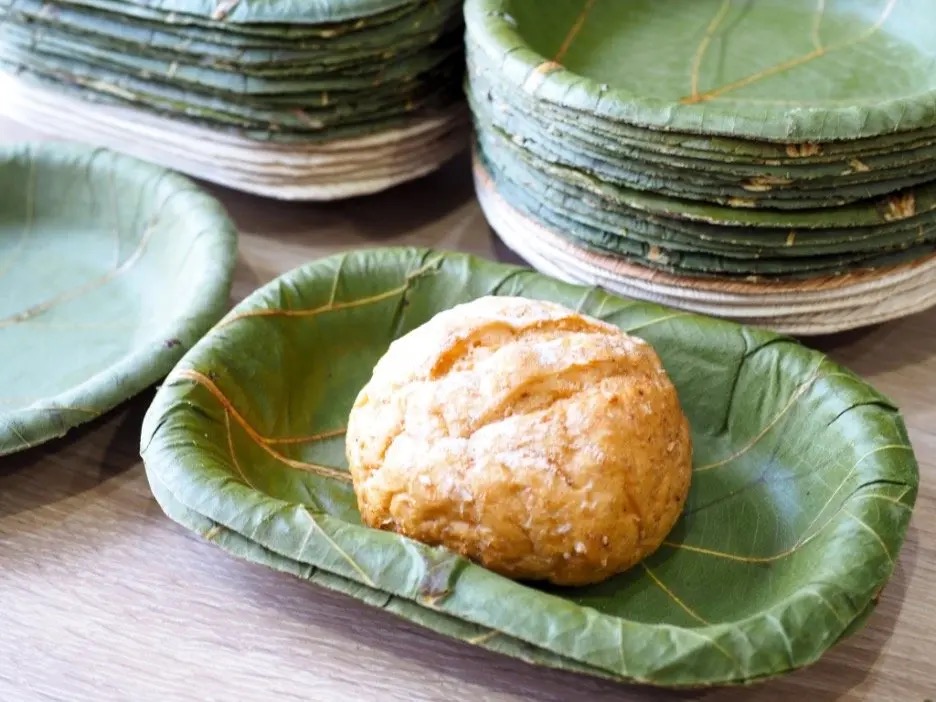 Maemoh leaf (🇹🇭) is an innovation developed by Chayakorn Wongata, deputy mayor of Mae Moh district, Lampang province. Chayakorn compressed banana leaves into plates and bowls using a machine.
The results were met with positive feedback from both domestic and international users, as banana plates are non-toxic and suitable for hot foods. In 2019, Maemoh leaf was used to serve leaders at the 34th ASEAN Summit.
Kab mhak plate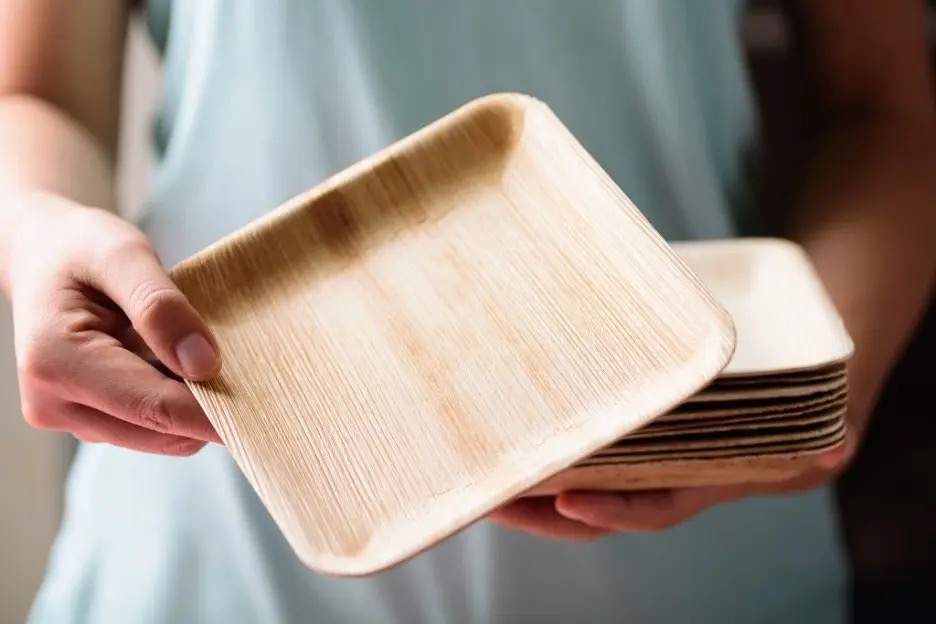 Kraisorn Srisuwan was an ordinary factory worker in Phetchaburi province. One day, after witnessing a huge amount of plastic and foam boxes in the factory and his community, he decided things had to change.
Kraisorn bought a machine to begin producing Kab mhak plates (🇹🇭), made from the leaves of the areca palm. He harvested the leaves in Phetchaburi and nearby provinces, cut them into rectangular shapes, compressed them in 120°C for 60 seconds, and voilà! Kraisorn successfully invented biodegradable plates that can be reused up to seven times.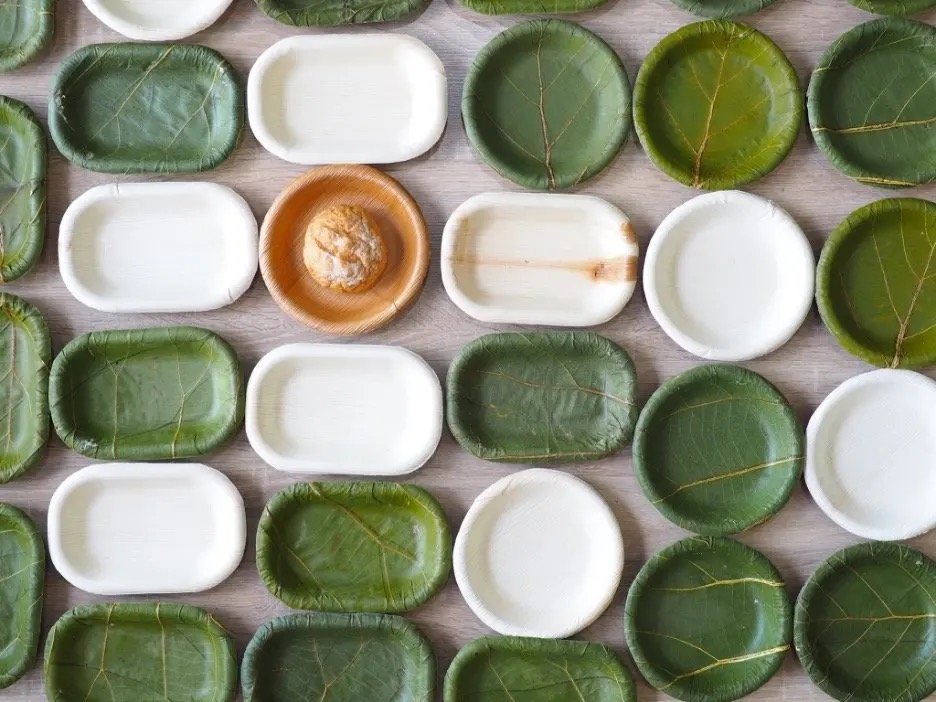 These are only a few examples of how traditional Thai wisdom of sustainable packaging is tackling the global crisis of plastic pollution. Retreading ancient knowledge and developing solutions with modern techniques has shown that something as simple and ubiquitous as leaves can be used in solving the challenge of our generation.
Experts predict that by 2050, there will be more plastic than fish in the sea, so it is up to us to make a change before it is too late. However, this change may not be as complicated as previously believed. As these Thai innovations show, we can broaden the search for sustainable solutions by revisiting our cultural heritage and examining new opportunities at home.
About the Content Creator:
Natcha Jantararotai
A writer, translator, and avid reader, Natcha, or Lha, works in the field of digital diplomacy at a foreign government organisation. Aside from her interest in cross-culture communication, she is passionate about storytelling and how creativity can be used as a tool to inspire groundbreaking solutions. Her love for nature and the urge to support local communities play a crucial role in her writing pieces.